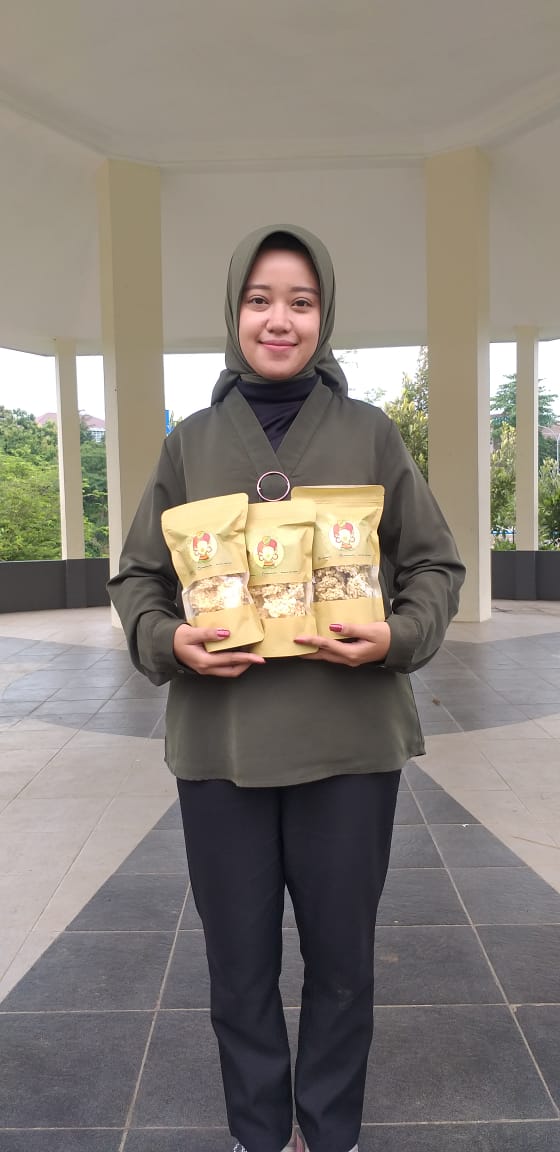 The business world every day always pops up products with their own characteristics and uniqueness obtained from creative and innovative ideas by business people. Business ideas can also arise with events or events that occur in the environment around us. Like what happened to the four of us, namely Vergia Ayunda Tiara, Monika Devita Putri, Afifa Shafa Choirunisa, and Amanda Ayu Nabila, students of the D4 Tax Accounting Department class 2019 Undip Vocational School when they saw an opportunity for a simple idea to emerge from accidentally buying rengginang from a snack vendor. who wandered around a friend's house complex. "Our rengginang product started when we bought rengginang from a snack vendor when we were discussing a business idea at a friend's house." The business is guided by the program of 100 young entrepreneurs at the Vocational School in 2021
In the rengginang products that we buy, they have original characteristics without turning these snacks into innovations. The original shape of the rengginang that is sold is very simple using plain white plastic glued with staples, for the taste of the rengginang it is also still bland without added taste and has a large, crumbly textured shape that makes it uncomfortable to eat it because it will be scattered. "We don't like the texture of the rengginang that we bought from the snack vendor, it causes it to fall out and there is a lot of oil from the rest of the frying pan that doesn't seem to be drained. Especially with the original taste of rengginang, which is bland, it doesn't suit our tongues, who like flavoring variants."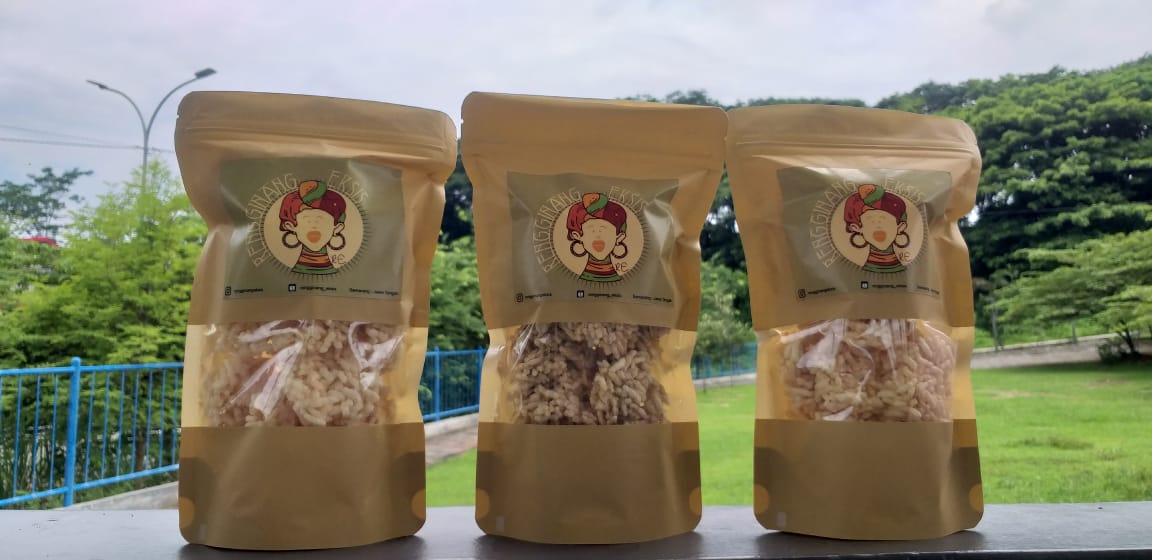 By innovation we are inspired to add flavor and make it smaller. With the main ingredient of glutinous rice which is processed like making rengginang in general, it can be a contemporary snack with the addition of various flavors and small shapes that are practical for one bite. "That's when we had a fun discussion and finally decided to choose Rengginang products for our business". We try to get the best results on our Rengginang products by watching youtube and asking the snack vendor directly. After gaining knowledge of how to make Rengginang with a texture that does not fall out, is small in shape but does not crumble when fried, a texture that is neither too thick nor too thin, the amount of taste for each portion of Rengginang and attractive and environmentally friendly packaging. Don't forget to decide on a trademark plan from us along with its logo to marketing methods and delivery strategies to our target consumers.
Regarding the public's interest in rengginang, this is because this traditional food has been sidelined by the arrival of viral foods. But by our creativity and innovation, it has paid off. An introduction and a free gift to a close relative of Monica and Afifah decided to like our version of rengginang. The first trial was a success and we continued to manufacture a second batch in large quantities to be marketed. "We gave samples to our friends' relatives to be assessed in all aspects of Rengginang products, namely shape, taste, texture, portion and packaging. Luckily they gave us a positive response after trying the samples.
Through social media marketing, namely Instagram @rengginangeksis and online marketplace stores on the Shoppe application. With the name rengginang_eksis currently only managed by the four of us. Even though now one of us is out of town, we can still be responsible for our respective tasks so that we can run well according to the target.