Vocational School of Diponegoro University held an Achievement and Innovation Appreciation Night on Thursday, October 28, 2021. This hybrid activity was the culmination of the 5th Anniversary of the Undip Vocational School.
The activity, entitled Appreciation Night for the Achievement and Innovation of the Vocational School of Diponegoro University, was held on the 4th floor of the Vocational School building and through a zoom meeting platform and Live on the Vocational School YouTube channel. The series of activities include a Public Lecture with the theme Strategy for Being Innovative and Ready to Work for Vocational Graduates, Launching PUI (Center for Excellence in Science and Technology), Best Alumni Awarding from the Alumni Association of Applied Education (IAPAT) Vocational Schools, Wayang Cakrik Batik Show, Achievement Appreciation Awards and Innovation of the Vocational School Academic Community consisting of Undip Vocational School lecturers and students.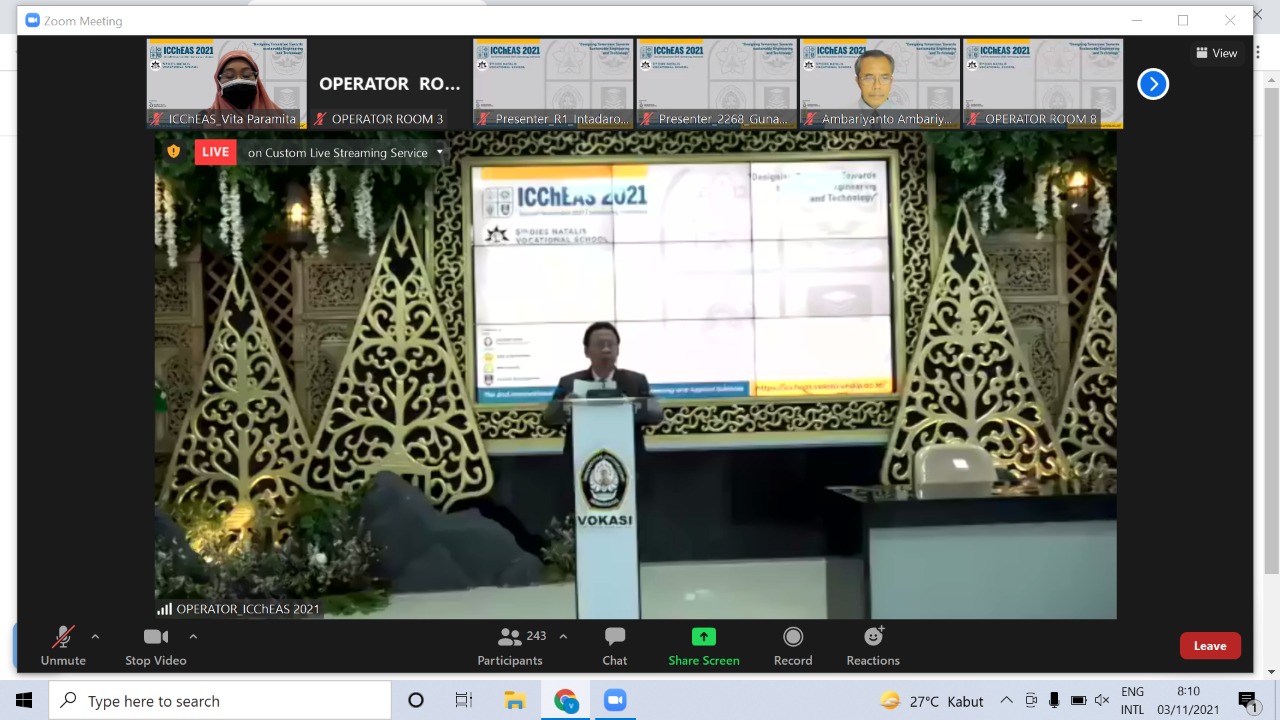 The night activity of appreciation for achievements and innovations was opened with remarks by the Dean of the Vocational School, Prof. Dr. Budiyono, M.Si and attended by the Undip Chancellor, Prof. Dr. Yos Johan Utama, S.H., M.Hum and his staff. This activity also contains a public lecture with the speaker Ir. Gandi Sulistiyanto as Indonesian Ambassador to Korea, Ir. H. Suyoto as the General Chair of IAPAT Undip, and the entire Vocational School Academic Community.
The Vocational School Anniversary which falls on September 1, 2021, begins with the holding of competitions for the Undip SV academic community. Various categories of competitions that were held a few weeks earlier include twibbon testimonials, table tennis, vocational school song covers, motivational videos, study program profile videos, student organization profile videos, learning videos, creative entrepreneurship videos, K3, work achievements, outstanding lecturers, creative, and innovative.
The announcement of the competitions was carried out simultaneously at the Achievement and Innovation Appreciation Night event. Awards and appreciation from the vocational school academic community were given after the Cakrik Batik puppet show by M. Bayu Widagdo then ended with the highlight of the event, namely giving awards to the winners of the competitions held, including the company profile video production competition for study programs, creative and innovative lecturer competitions, profile competitions student organizations, vocational school song cover competitions, K3 competitions, student business unit competitions, etc.